Structured Wiring & Pre-Wiring
The single most essential item is wiring. Structured wiring refers to the telephone, cable/satellite, and network wiring. Pre-wiring refers to audio, video and control wiring. A properly wired house gives you the maximum number of options for your home into the foreseeable future. Over a decade of experience has taught us that proper locations and wire paths are essential components to wiring.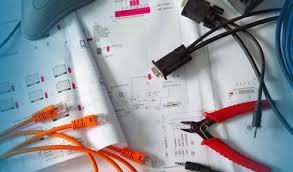 Architectural Wiring
Audio Video San Diego is a system integration company, pre-wiring and installing the latest home automation and communication technologies in new and existing structures – residential and commercial. We work closely with architects, builders, space designers and interior decorators. Our creative approach and flexibility make it possible to install even the most complex systems in virtually all premises.
We will pre-wire a structure under construction or an existing home or business with the latest category five or six technology for Internet/Intranet Computer Networking, promoting freedom and flexibility on your premises.
From a simple wall mounted volume control to a Home Automation system, we provide you with a wide variety of products:
• Whole House Automation
• Whole House Audio
• HDTV
• Programmed Universal Remotes
• Lighting and Climate Control
• Doorbell/Intercom systems
• Surveillance Systems
• Home Theater
• Data Networking
• Internet/Intranet Computer Networking
You are able control the system from within your home or from anywhere in the world. Audio Video San Diego has the know-how, creativity and expertise to partner with you in introducing top-of-the-line automation, comfort and security to your new home. Our objective is to offer you the very best products and technologies to enhance your lives. We represent the highest standards of our profession.